GREENLIGHTS by Matthew McConaughey: Grit, Growth, and Purpose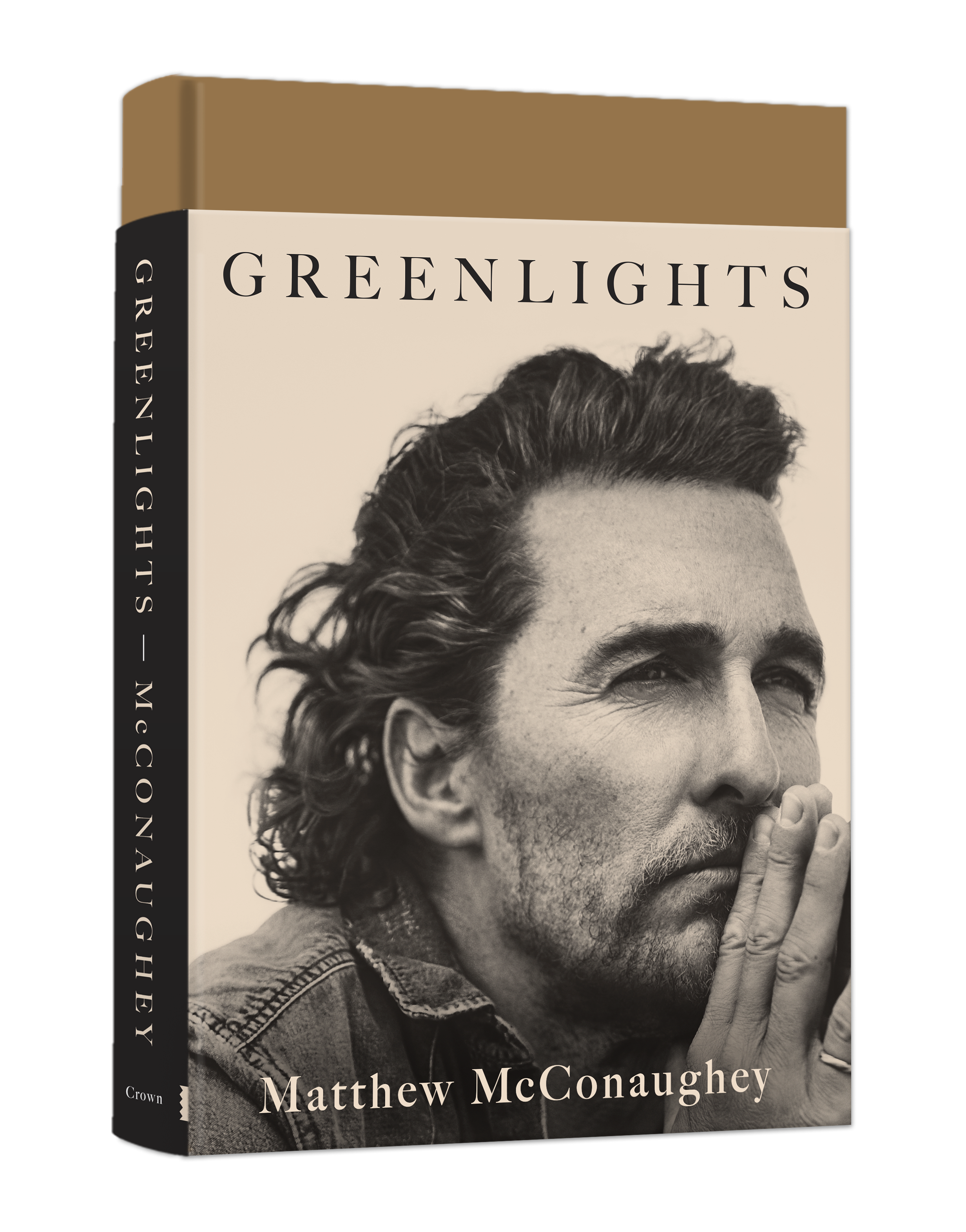 Matthew McConaughey's memoir might just be one of the best surprises of 2020. Greenlights is based on over three decades of his personal journals, and is sprinkled throughout with clips of pages and writings and photos. In the popular imagination, the Oscar winner's reputation is colorful and carefree: the shirtless Texan who annoys his suburban neighbors by smoking weed and playing his bongos naked in the middle of the night. In a year full of movie plot twists, it takes only a few pages into Greenlights before you see that this is not the celebrity memoir you thought it was.
His stories of growing up as the youngest of three boys in a hard-working, hard-hitting, and hard-loving family are fascinating in how they both confirm and dispel his myth. McConaughey did roam his town shirtless and shoeless with a BB gun, and he once spent an entire summer building a 13-story treehouse by himself with lumber, tools, and material "lifted" from a construction site. He was popular, drove a big truck, and was voted "Most Handsome" in high school. 
But this is not the story of the kid from the trailer park who went to bed every night dreaming of the bright lights of Hollywood. McConaughey was a straight A student and a very good golfer and debater. He decided he wanted to be a lawyer in the ninth grade and went to the University of Texas at Austin to fulfill that dream. When he realized his passion might be in storytelling and not law, he was able to make the switch to the Film program because of his GPA and position in the Honors Program. Although he knew in his bones it was the right decision, he was the "only frat guy in film school" who also stood out because of his tanned skin, affability, and non-black wardrobe.
McConaughey didn't use a ghostwriter which is not hard to believe when you remember he's been writing a version of his own life story in his journals since he was a teenager. He is good at telling stories so it's well-written, but it's not carefully constructed in the conventional way. He drops bombshells along the way — you've barely cracked open the book before you learn his parents divorced each other twice and married each other three times, he was blackmailed into having sex for the first time at 15, and was molested by a man when he was unconscious at 18. The actor got his first "ass whupping" when he answered to someone calling him Matt (his mom said he wasn't named after a doormat).
The 300-page book moves at a fast, steady pace so you often feel like you're sailing along for the ride, and he's generously personal and vulnerable in many of the stories he shares. Even non-fans will enjoy the account of his first role in Richard Linklater's Dazed and Confused, where he ad-libbed the now famous "alright, alright, alright" which has followed him for 30 years. 
McConaughey leans away from his image when he talks about his career. Although it's true he did fall into acting at the beginning of his filmmaking path and achieved early success, his work process involves hard work, extraordinary planning, and self-discipline. To play a dragon slayer in Reign of Fire, his original daily training regimen included running five miles barefoot across the desert. When he turned down a huge role because he didn't want to do any more rom-coms, he didn't get another movie offer for almost two years. He says: "We have to prepare to have freedom. We have to prepare for the job so we can be free to do the work."
More than just a chronicle of his famed film career, Greenlights follows McConaughey's dedicated quest to find his path and his purpose. Some of the most interesting sections are of his escapes from his rising Hollywood star trajectory. He takes soul-searching journeys to find meaning and answers, including hiking to a monastery in the New Mexican desert, canoeing the Amazon in Peru, and traveling around Mali, Africa (where he had to wrestle the village's strongest man). These solo trips seem to function as essential pit stops as he grapples with problems or questions, and as a way for him to find his North Star.
For Blue Zones readers, it's not just his quest for purpose that is interesting. A regular writing routine of 36 plus years is a steady downshifting practice that we know is both life-enhancing and stress-relieving. Studies point to the mental and physical benefits of journaling, and there is also evidence it can boost creativity and mental clarity. Greenlights feels like it's elevating an idea and not just his personal brand. The big idea seems to be that pauses (yellow lights), detours, and stops (red lights) are essential to the journey. They give us time and space to course-correct and find which green lights to follow on the road of life.
View this post on Instagram
[READ: How Hungry Curiosity and Boundless Optimism Helped Dan Buettner Discover the Blue Zones]